POPEYE FILM QUIZ:
---
---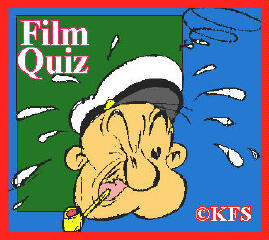 POPEYE FILM QUIZ:
BRAND NEW CONTEST QUIZ - AS OF AUGUST 14, 1998

01) Who voiced Olive Oyl during the early Famous Studios era?
02) What does Segar's Poopdeck Pappy commonly call Olive Oyl?
03) Name the cartoon where Popeye's relative used garlic for strength?
04) Who is Olive Oyl's obnoxious cartoon niece?
05) What Disney voiceman also worked in the Popeye toons?
06) In the KFS cartoons, what did the Sea Hag call her vulture?
07) When did the Jeep 'officially' make his first appearance?
08) What popular TV show once ran a clip of Macy's Popeye balloon?
09) How many theatrical cartoons were released prior to 1960?
10) Who did Popeye beat at the box office in the mid-1930s?
11) What did Chester's real-life "Popeye" do for a living?
12) Name the business that employed the real-life "Popeye"?
13) Name a favorite food and drink of the real-life "Wimpy"?
14) Name the son of the real-life "Olive" and his nickname?
15) Segar once owned a gun that belonged to what famous celebrity?
---
IF we have A winner, He or She will be notified by E-Mail..... Thanks for playing!
---
(All Material On These Pages Is Copyrighted - Any Plagiarism Is Strictly Prohibited By Law) (Copyright 2015/2030 King Features Syndicate - World Rights Reserved)