Is POPEYE in the Armed Services?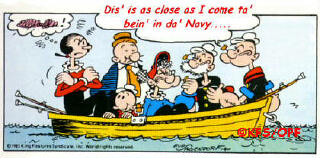 ---
Before you write us complaining that "Popeye" was in the navy, marines, air force, army or national guard.. re-read this article and then re-read it again. It will not be altered or updated. The information is 100% correct. It is clearly stated that the "cartoon makers" had "Popeye" appear in military gear; not only in the Navy, but also in the Army. Elzie Segar's sailor man has zero, which means nothing to do with the military. Segar's "Popeye" wears a yachting cap and owns a boat called the, "Mary Ann." If you're still not convinced, Mr. Segar passed away in 1938, and that was several years prior to the beginning of WWII. Thanks for visiting our page.....
---
"AN ARMED AVOCATION??"

(Is POPEYE Really Enlisted?)
I cannot recount the number of times that I have been asked about POPEYE's occupation?? Our Internet page has inquiries several times per week from folks (probably enlisted) who try to claim the Ol' Salt as one of them. Navy personnel insist that POPEYE is a fellow swabby. Coast Guard workers dictate that Segar's Sailor is a comrade 'Coastie'. I'm surprised the Army hasn't jumped on the bandwagon yet, but I won't be too bewildered if they do!!
Once again, here are the facts. Elzie Crisler Segar created a civilian seaman. The word 'sailor' does not necessarily mean that POPEYE has to represent the armed services. By definition, a sailor is a 'mariner' and/or a 'seafarer'. The sailor that Segar conceived was NOT a member of ANY military service. If you recall, the original POPEYE suited-up in denim pants and sported a yachting cap on his nobby noggin. Segar did not live long enough to experience WWII. Since he passed away in 1938, there is really no way to know how HE might have guided POPEYE through worldwide strife?? We can only speculate.
It was the cartoon makers that replaced POPEYE's 'civies' with military attire. In 1936, a military short was produced, but a seaman's career wasn't the subject. The cartoon was titled, "I'm In the Army Now", and featured POPEYE and BLUTO attempting to join the infantry.
In 1941, Fleischer Studios released the first in a series of 'wartime toons'. Their first attempt was titled, "The Mighty Navy". This cartoon promoted POPEYE in gob gear and contained a bit of history that you probably didn't know. Towards the conclusion of the film, POPEYE was presented with a portrait of himself. This image was used as the "official insignia of the Navy's bomber squadron". Ironically, the design displayed POPEYE in his original outfit - complete with yachting cap.
For the remainder of WWII and beyond, POPEYE and BLUTO were formidable foes in Uncle Sam's nautical branch of the service. POPEYE was allowed to retrieve his yachting cap in one film from 1942 titled, "A Hull of a Mess". Many of these cartoons have been removed from the airwaves, because they are not considered to be 'politically correct'. Some of the titles are even considered offensive - such as, "Scrap the Japs".
One aspect that I find particularly 'offensive' about this series was the introduction of POPEYE's pal -- 'SHORTY'. SHORTY was a shrimpy, bespectacled character - with an obnoxious voice and a personality to match. The cartoon makers must have presumed that the audiences were growing tired of BLUTO, so they concocted a character that was easily more despicable than BLUTO - with absolutely no exertion. SHORTY ranks as one of the all-time most obnoxious film creations - almost as vile as POPEYE's nephews - PIPEYE, PUPEYE, POOPEYE and PEEPEYE.
Fortunately for the world and POPEYE, the war didn't last forever. When peacetime returned, POPEYE's active duty was sidelined, but his Navy 'whites' remained. When the theatrical cartoons first aired on television in 1956, they were a huge success. When King Features commissioned 220 new cartoons in 1960, POPEYE - again - was left in his white costume. It wasn't until 1978, when 'The All New POPEYE Hour' debuted, that Segar's Sailor was allowed to return to his original apparel - with one exception. His yachting cap was still replaced by the traditional sailor's 'dixie cup'.
In conclusion: Sorry all you swabbys and swabettes, but E.C. Segar's 'POPEYE' will forever remain a civilian.....
(All Material On These Pages Is Copyrighted - Any Plagiarism Is Strictly Prohibited By Law) (Copyright 2015/2030 King Features Syndicate - World Rights Reserved)