Is POPEYE in the Armed Services?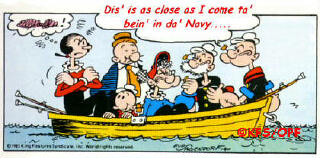 ---
Before you write us complaining that "Popeye" was in the navy, marines, air force, army or national guard.. re-read this article and then re-read it again. It will not be altered or updated. The information is 100% correct. It is clearly stated that the "cartoon makers" had "Popeye" appear in military gear; not only in the Navy, but also in the Army. Elzie Segar's sailor man has zero, which means nothing to do with the military. Segar's "Popeye" wears a yachting cap and owns a boat called the, "Mary Ann." If you're still not convinced, Mr. Segar passed away in 1938, and that was several years prior to the beginning of WWII. Thanks for visiting our page.....
---
"AN ARMED AVOCATION??"

(Is POPEYE Really Enlisted?)
Elzie Crisler Segar from Chester, Illinois created a "civilian" sailor for his comic strip known as, "Thimble Theatre." The word "sailor" in Popeye's case means a "mariner" and/or a "seafarer." The sailor that Segar conceived was NOT a member of ANY military service. If you are old enough to recall, the original Popeye suited-up in dark denim pants, with a black shirt trimmed in red and sported a yachting cap on top of his knobby noggin. Unfortunately, Mr. Segar did not live long enough to experience WWII. Since he passed away in 1938, there is really no way to know how HE might have guided POPEYE through worldwide strife and other events during the nineteen-forties??
It was the cartoon makers of the nineteen thirties and forties that replaced Popeye's "civies" with military attire. In 1936, a military-related short was produced and titled, "I'm In The Army Now," which featured Popeye and Bluto attempting to join the infantry. Therefore, Popeye's initial military adventure was a stint in the Army. He and Bluto returned to the Army a second time in, "Many Tanks" in 1942, both films from Fleischer Studios.
In 1941, Fleischer Studios released a series of fully animated "single-reel" (meaning average cartoon length) "wartime toons" in glorious black and white. Their first naval attempt and perhaps the most stellar was titled, "The Mighty Navy." This cartoon promoted Popeye in gob gear and contained a bit of history that you probably didn't know. Towards the conclusion of this particular film, Popeye was presented with a portrait of himself. This image was then adapted as the, "official insignia of the Navy's bomber squadron." Ironically, the design displayed Popeye in his original outfit - complete with yachting cap. Popeye and his pals would often show-up as "nose-art" for a variety of airplanes during that era. To complete the list of "single-reel" cartoons in black and white from Fleischer's Navy-related films, we have the following entries. From 1942, in order of release we have, "Blunder Below," "Fleets Of Strength" and "Baby Wants A Bottleship."
Famous Studios (connected with A.A.P.) also began their series in 1942, with more "wartime toons," which were perhaps a bit more politically incorrect.. From 1942, these included, "A Hull Of A Mess" and a pair of others with very non-PC titles, which we won't mention by title here. From 1943, there were, "Spinach Fer Britain," "Seein' Red, White 'N' Blue," "Too Weak To Work," "A Jolly Good Furlough" and "Ration Fer The Duration." From 1944, there was, "Movin' Aweigh," which rounds off the Famous Studios films from this genre and merely featured the sailor man and his extremely annoying pal, Shorty wearing their sailor whites, while helping Olive Oyl move to a new dwelling. A side-note worth mentioning here would be an RAF bomber airplane, officially named the, "Vickers Wellington," which was deployed by Great Britain. During it's service, it was nicknamed the, "Wimpy." Why? Because "Wimpy" the hamburger moocher was in fact named, "J. Wellington Wimpy."
So, let's recap. Altogether, there were a total of 16-cartoons that had some type of actual military connections, either directly or indirectly. The Army and the Navy connections from the black and white series from Fleischer studios included a total of 6- cartoons. And the series from Famous Studios included a total of 9-cartoons. But wait.. 6 + 9 only equals 15-cartoons? That means that 1-cartoon is missing from this list.
What did we overlook here? Well, the Fleischer Studios also created a trio of specialty "two-reeler" cartoons, all in living color! These animations were double the length of a regular "single-reel" cartoon. The first entry was released in 1936, "Popeye The Sailor Meets Sindbad The Sailor." The title actually defines the plot of the cartoon. The second entry was released in 1937, "Popeye The Sailor Meets Ali Baba's Forty Thieves." The title also defines the plot of the cartoon. The third entry was released in 1939, "Aladdin And His Wonderful Lamp." The title once again defines the plot of the cartoon, and is naturally yet another entry in this trio that stars, "Popeye." Therefore, one of these animated films must contain a military connection for it to be included in the list of 16 cartoons. But, which one could it be? The answer is, "Popeye The Sailor Meets Ali Baba's Forty Thieves," from 1937. Not only does this entry have a military connection, but this relationship is not the Army or the Navy. The military branch mentioned here is the, United States Coast Guard, and ol' Popeye is proudly serving with that branch in this cartoon! He is seen shouldering his firearm at a, "Coast Guard Station" - wearing no Navy whites - attired in his traditional outfit with yachting cap, and the "Coastie" clip starts around 2 minutes into the film and also includes, Olive Oyl and J. Wellington Wimpy. Hence, the Coast Guard has a Popeye-connection 4- years prior to the release of, "The Mighty Navy" entry from 1941!
Fortunately for the world and for Popeye, the war didn't last forever. When peacetime returned, Popeye's active duty was sidelined, but his sailor "whites" remained. When the old theatrical cartoons first began airing on television in 1956, they were a huge success. When King Features Syndicate commissioned 220 brand new cartoons in 1960-61, Popeye - once again - was left in his white costume in the majority of those shorts. The only true exception was the pilot cartoon entry titled, "Barbecue For Two," where Popeye and the other characters remained in their original costumes, replete with the sailor man's non-military issued yachting cap. We hope that you enjoyed this walk down memory lane. But I do feel the need to reiterate the fact that Elzie Crisler Segar's original version of "Popeye," which began in the comic strips, was the one of a kind spinach eating, fighting sailor man that remained a civilian as long as Mr. Segar was around. The made to order military personifications were strictly developed by the animated cartoon makers of the day. Take care..
..end..
(All Material On These Pages Is Copyrighted - Any Plagiarism Is Strictly Prohibited By Law) (Copyright 2015/2030 King Features Syndicate - World Rights Reserved)