---
(Page Updated: May 2023)
---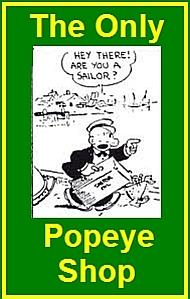 ---
---

---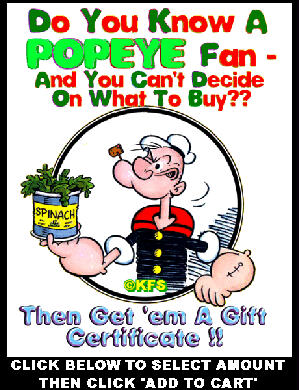 ---
Gift Certificate Product (GiCe01)



For Friends And Family That Are Popeye Fans
Select Amount of Gift Certificate
Gift Certificate Product (GiCe01)
Gift005 $05.00
Gift010 $10.00
Gift015 $15.00
Gift020 $20.00
Gift025 $25.00
Gift050 $50.00
Gift075 $75.00
Gift100 $100.00
Gift125 $125.00
Gift150 $150.00
Gift175 $175.00
Gift200 $200.00


Select Item Below By Amount Of Certificate

---
---
Select a Category Below:






---
Spinach Can Collectibles
Popeye the Sailor
(Page Updated: May 2023)
---
Note: Changed E-mail Addresses:

Spinach Can Collectibles: scc1@popeyethesailor.com

(And Please Also Use The Same Address For Fanclub Info)

Official Popeye Fanclub: scc1@popeyethesailor.com
---
CITY OF CHESTER NO LONGER HAS A POPEYE PICNIC
---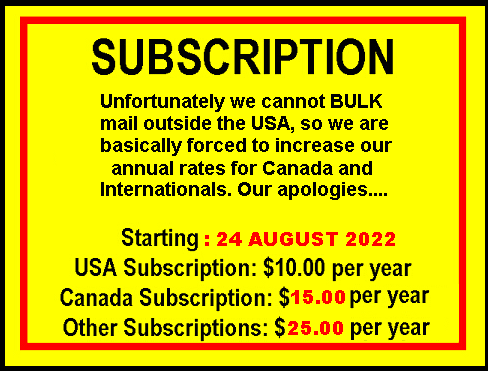 ---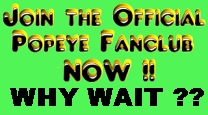 USA Residents -- $10 for 3 issues
Canada -- $15 for 3 issues
International -- $25 for 3 issues
Mailed every 4 months - March, July and November
ORDER or RENEW Your Subscription - On-Line!
Club Subscription-1 Year or 3 Issues
Product (Opf001)



OPF Membership/Subscription
For Friends And Family That Are Popeye Fans
Select By Country
1 Year Subscription
(3 issues Per Year)


Select By Country

---
** No Processing Fees Added To Shopping Cart For
Subscriptions
All Fees Are Included **
---

---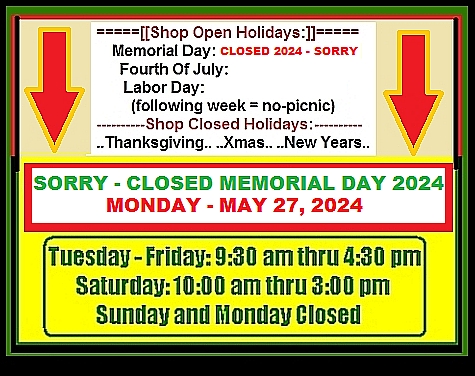 ---
Spinach Can Collectibles - All the Popeye memorabilia, gifts and souvenirs you could want. Popeye, Olive Oyl, Bluto, Wimpy, Swee'pea, Jeep - etc. are all here. Posters, t-shirts, glasses, key rings - the Popeye store has them all. The spinach-eating sailor, created by E.C. Segar, is the star of Spinach Can Collectibles. Our store and museum in Popeye's Home Town of Chester Illinois carries a vast stock of Popeye goodies - and we will ship within a day or two - to anywhere in the world.
IF YOU WANT POPEYE GOODIES - WE HAVE THEM!!
VISA - MASTERCARD
Call Us - 1-618-826-4567
All Prices Subject to Change
Not Responsible for Lost or Stolen Items!!
(No Refunded Shipping)
---
---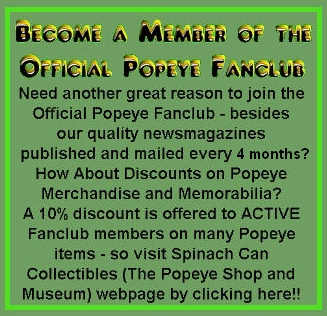 ---
NOTICE TO ALL VISITORS
We want to hear from you and are not ignoring you. If you attempt to contact us (especially WEB-TV users) and do not get a response in a day or two, please copy our e-mail address and shoot us another message or give us a call - (618)826-4567. We want to serve your requests. Thanks.
---

Click On Image To Leave A Comment Or Request More Info.
---
Call us for more details or to place an order immediately! (618)826-4567-Monday thru Friday-9:30am till 4:30pm cst or Saturday-10:00am till 3:00pm cst. If you prefer to use snail mail, you may write for more information to:
Spinach Can Collectibles

1001 State Street, Chester, IL., 62233
---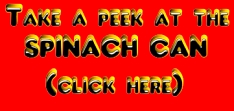 ---
---
SOME LINKS
Added At The Requests Of Their Authors
CLICK HERE FOR MORE LINKS
---
GET YOUR COUNTER AT DIGITS.NET


Popeye, Olive Oyl, Wimpy, Bluto, Swee'Pea, Jeep, etc. and Betty Boop - internet shopping for all your Popeye gifts and toys, old and new. Popeye collectors can find all the Popeye memorabilia, books, videos, postcards and posters here! Visit the Popeye museum in Chester, Home of Popeye.
(Page Updated: April 2017)
Free search engine submission and placement services!
---
(All Material Is Copyrighted - Any Plagiarism Is Strictly Prohibited By Law) (Copyright 2000/2050 King Features Syndicate - World Rights Reserved)